It's done. Small ball is king of the big man's game. The Golden State Warriors succeeded in dominating the Cleveland Cavaliers in Game 6 of the 2015 NBA Finals to pocket their first NB championship after four decades of frustration. Steph Curry played like the MVP again and, well, his teammate Andre Iguodala, who has been crazy good in this series, was named Finals MVP.
Game Capsules from The Sports Network:
Golden State 105, Cleveland 97
Cleveland, OH (SportsNetwork.com) - A beaming Stephen Curry raised his arms in the air with both index fingers pointed to the sky. Seconds later, the NBA MVP received a congratulatory handshake from LeBron James. After the final buzzer sounded, NBA Finals MVP Andre Iguodala retrieved the game ball, clenched it tightly against his hip and joyfully began to jump up and down.
The 40-year drought is over.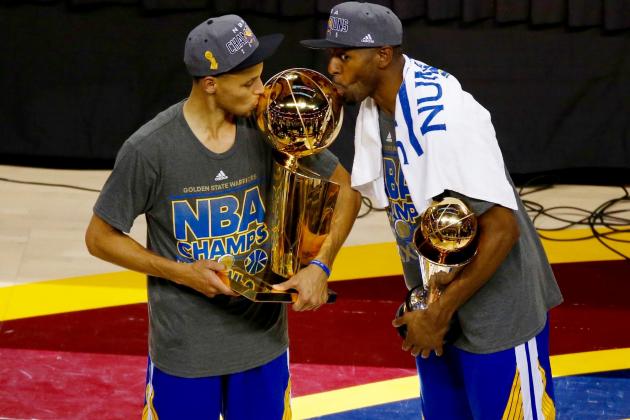 The League MVP and Finals MVP both plant their kissers on the Larry O'Brien trophy after they clinched Golden State's first NBA title since 1975.
(image from Getty Images)
Curry had 25 points, eight assists and six rebounds, Iguodala added a season-high 25 points and the Warriors claimed their first NBA title since 1975 with a 105-97 win over the Cleveland Cavaliers in Game 6 on Tuesday night. Draymond Green posted the franchise's first playoff triple-double since Guy Rodgers in 1962 with 16 points, 11 rebounds and 10 assists. It's the franchise's fourth NBA championship. James had 32 points, 18 boards and nine helpers for Cleveland and averaged a staggering 35.8 points, 13.3 rebounds and 8.8 assists per game in the series.
Tweet