It was the most memorable Game 7 in recent PBA history, but only one team could win and carry the trophy. That team was the Talk N Text Tropang Texters.
The Tropang Texters are champs again!
(image from InterAksyon)
Game recap (adapted from Interkasyon):
TALK N TEXT TROPANG TEXTERS over RAIN OR SHINE ELASTO-PAINTERS, 121-119 (2 OT)
Box scores.
The Talk 'N Text Tropang Texters had to weather a big Rain or Shine comeback and two overtime periods but made the plays it needed the most to win an historic Game Seven classic, 121-119, and clinch the PBA Commissioner's Cup title on Wednesday at the SMART-Araneta Coliseum.
It was the 7th championship in Talk 'N Text's franchise history. The game was also the first ever double-overtime Game Seven in the history of the PBA.
Ranidel De Ocampo scored a career-high 34 points, import Ivan Johnson had 30 points and 11 rebounds, while Best Player of the Conference Jayson Castro barely missed a triple-double with 23 points, 9 rebounds, and 12 assists.
De Ocampo came up huge in the second overtime, where he scored the first eight points of his team. He drove to the basket and banked in a shot to open scoring before following it up with a three-pointer, 111-106.
Chris Tiu made two free throws but De Ocampo stuck another three-pointer to give the Tropang Texters a 114-108 as well as set his new career-best scoring mark.
Gabe Norwood and Paul Lee made some big shots for Rain or Shine but Talk 'N Text had answers from Harvey Carey and Johnson.
Lee knocked down a three from the corner to bring his team back to within one, 119-118, but Larry Fonacier knocked down free throws on the other end.
Back in the fourth quarter, Rain or Shine came on strong. A basket from Chism and three-pointers from Jonathan Uyloan and Chris Tiu cut their deficit to a single point, 84-83, inside the last five minutes of the game.
But Castro knocked down clutch back-to-back triples to make it a seven-point game, a lead Talk 'N Text would maintain until the two-minute mark.
But Chism would make some big plays, scoring all eight of Rain or Shine's points in the endgame. He hit two threes, including one that tied the game at 97-apiece with 26.2 remaining.
Chis finished with 19 fourth quarter points to keep Rain or Shine's hopes for the title alive.
Castro and Tiu each had a chance to win the game for their teams but could not get it done in regulation.
A triple and two free throws from Chism in the extra period gave Rain or Shine a 104-101 lead, but Talk 'N Text battled back on a huge step-back three from Johnson and two charities from Larry Fonacier.
But Lee again tied the game inside the final minute of overtime after receiving a drop pass from Tiu and getting the hoop, 106-106.
Johnson drove hard to try to give the Tropang Texters the lead but his attempt was blocked by both Jireh Ibanes and Chism.
This is yet another bridesmaid finish for Rain or Shine, but they have nothing to be ashamed of. They played as hard as anybody could have gotten the title if not for a few breaks.
Line of the Game: Wayne Chism (ROS) - 34pts, 29rebs, 2stls, 1ast, 1blk, 4 triples, 12/20 FGs.
Ivan Johnson came up big again for TNT.
Jayson Castro barrels his way against Jonathan Uyloan.
Raymond Almazan laid a big fat egg in Game 7.
Wayne Chism just couldn't tow his team to victory.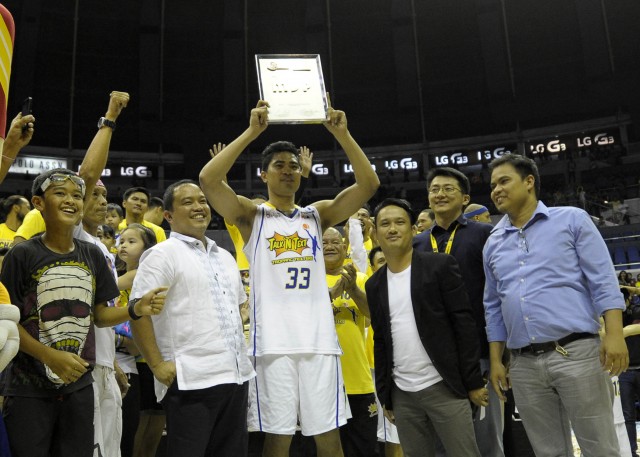 Ranide de Ocampo was named Finals MVP.
(image by KC Cruz/GMANews)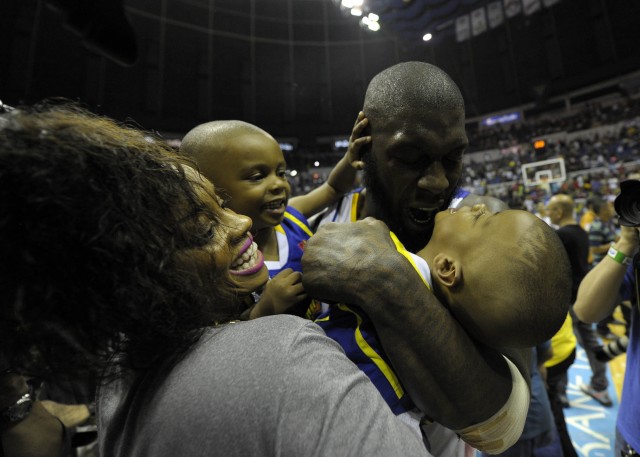 Ivan Johnson celebrates with his family after the Texters' huge Game 7 win.


(image by KC Cruz/GMANews)
Video is from Inquirer.net.
Unless otherwise specified, all images are from the PBA.
Tweet