Here in the Philippines there really is no site (or person) really dedicated to the Asian hoops scene, which is why this series exists. Through this series of Asian Basketball Journals, I hope to address just that void. I believe that Asian basketball is such a vibrant source of stories, and I think this should be shared with hoop nuts here in the Philippines and beyond.
Like in previous posts, I won't be going into a lot of detail anymore. I'll use mostly images and videos and then just add captions to each one that will, hopefully, capture the essence of the latest developments in Asian hoops.
As always, the past few weeks saw many interesting things happen. In particular, postseason action was great! Sagesse became the first team to advance to the Final Four in the Lebanese league, while the Finals of the Iranian Superleague commenced with Petrochimi taking the upper hand. Al Gharafa also copped the title in the Emir Cup to complete a rare grand slam in Qatar. Out east, the Japanese NBL started its quarterfinal round, which saw the Toshiba Brave Thunders and the Wakayama Trians automatically qualify for the semifinals.
Postseason action heats up all over Asia!
2014 Lebanese Basketball League (LBL): Sagesse sweeps Tadamon to make the Final Four while other series heat up!
Ali Haidar of Al Riyadi tries to go up strong. They hold a 2-1 lead on Champville in the quarterfinals.
(image from ProSportLb)
Chris Daniels helps Sagesse get over Tadamon in the QFs! The 7-footer is averaging 19 points and 9 boards.
(image from ProSportLb)
Not even the recent addition of Mustafa Shakur to the Tadamon squad could lift them over Sagesse.
(image from ProSportLb)
Lebanese-American Philip Tabet tries to post up against Al Riyadi's Ahmad Ismail. Champville is down, 1-2,
to the league leaders after losing Game 3, 104-60.
(image from ProSportLb)
2014 Iran Superleague: Petrochimi takes a commanding 2-0 lead in the Best-of-Five Finals!
National pook members Hamed Haddadi and Arsalan Kazemi battle for rebound! Kazemi has been a defensive
dynamo for Petrochimi, averaging 11 rebounds and 2 steals in the Finals.
(image from IranBasketball.org/Ashkan Mehriar)
Hamed Haddadi has been really strong for Mahram, but he has also been turning the ball over 6 times per game in the Finals.
(image from IranBasketball.org/Ashkan Mehriar)
Team Melli backcourt mates Mahdi Kamrani and Javad Davari hustle for the loose ball in this bit of action from the 2014 Superleague Finals.
(image from IranBasketball.org/Ashkan Mehriar)
Mohammad Jamshidi challenges Hamed Haddadi in this bit of action from the semifinals. Jamshidi's Azad University bowed to Mahram in 3 games.
(image from IranBasketball.org/Ashkan Mehriar)
Iranian ace Samad Nikkhah Bahrami has been struggling in the Finals, shooting just 27% from the field.
(image from IranBasketball.org/Ashkan Mehriar)
2014 Qatar Basketball League (QBL): Al Gharafa cop the Emir Cup and the Grand Slam!
Devan Downey of El Jaish attacks the hoop in the 2014 Emir Cup Final. Downey's 19 points weren't enough to tow El Jaish to the crown, though.
(image from the QBF)
Dwayne Jones, the consensus best player in the Emir Cup, was limited in the Final. He scored just 11 points and shot only 50% from the field.
(image from the QBF)
El Jaish supporters came out in full force to cheer their team on in their first Emir Cup Final appearance.
(image from the QBF)
Eugene Spates of Al Gharafa launches a jumper. He hit 6 triples to lead the victors in the Emir Cup Final.
(image from the QBF)
Fadi Hani Abilmoni helped El Jaish beat powerhouse Al Rayyan in the semifinals to arrange the showdown with Al Gharafa in the Final.
(image from El Jaish)
Al Gharafa's fans were treated to a victorious finish to their golden season.
(image from the QBF)
AL Gharafa copped the titles for the 2013-2014 Qatar League, 2014 Qatar Cup, and 2014 Emir Cup to complete a rare Qatari Grand Slam!
(image from the QBF)
2014 South Korean National Team: Yoo Jae-Hak names his final 24!
Ha Seung-Jin returns from military service and gets named to 2014 FIBA World Cup Koran national pool.
(image from sports.163.com)
Veteran international campaigner Yang Hee-Jong of Anyang-KGC returns to the national pool, too.
(image from FIBAAsia)
LG Sakers point guard Kim Si-Rae is a fast rising KBL star. He is seen as the heir apparent to Yang Dong-Geun in the national team.
(image from KBL)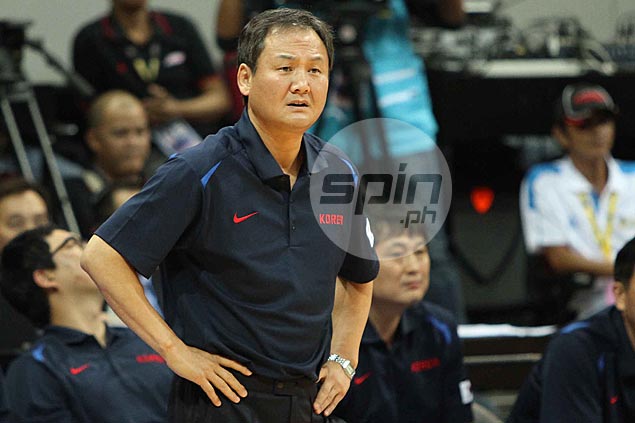 2013-2014 KBL champion coach Yoo Jae-Hak can now focus on national team training. He named his 24-man pool just recently.
(image from Spin.ph)
2014 Japan-NBL: Playoffs begin!
Yusuke Okada of Toyota and Hiroki Watanabe of Tochigi were to face each other in the quarterfinals. As of now, the series is tied 1-1. The winner of Game 3 advances to face the Toshiba Brave Thunders in the semis.
(image from Japan-NBL)
Kosuke Kanamaru of the Aishin Seahorses were set to face Shogo Asayama and the Mitsubishi Diamond Dolphins in the Playoffs. Aishin already swept Mitsubishi, 2-0, to barge into the semifinal round.
(image from Japan-NBL)
NT mainstay Takahiro Kurihara looks to be a vital cog for Toshiba's championship aspirations.
(image from Toshiba Sports)
Takuya Kawamura and the rest of the Wakayama Trians celebrate after notching the top spot in the Western division and getting an automatic berth in the semis.
(image from the Wakayama Trians)
The MVPS of April 2014 -- former NBA player Yuta Tabuse of the Link Tochigi Brex for the East and the Wakayama Trians' sublime swingman Takuya Kawamura.
(image from Japan-NBL)
Tweet