It was a banner year for FIBA Asia, but, in lieu of an Asian hoops year-ender, I felt it would be better to go position-by-position and look at the best FIBA Asia players of 2013. These are the guys who did really well in the Asian hoops circuit, in particular in the 2013 FIBA Asia Champions Cup, the 2013 Jones Cup, the 2013 FIBA Asia Men's Championships, and the subsequent qualifying tournaments. One thing I will also factor in is the players' performances in their respective pro leagues. Were they able to lead their teams to the title in one, or some, or all of these tournaments? What kind of mark did they leave on FIBA Asia as a whole this year?
In this post, we will look at the FIBA Asia Coach and FIBA Asia Naturalized Player who made the most impact in 2013. We will give Baller Awards to the Best FIBA Asia Coach and FIBA Asia Breakthrough Player of 2013.
Jerry Johnson was a mighty impressive naturalized
player in 2013.
Memi Becirovic – Team Iran and Mahram Tehran (Iranian Superleague)
Coach Becirovic was the toast of Iranian basketball in 2013 as he led Iran to the Jones Cup title and, more importantly, led Team Melli in reclaiming the FIBA Asia crown. Iran's cumulative standing in both tournaments was a flawless 16-0. Just amazing. Sure, we can chalk up their big wins to the team's depth, but it also takes a special kind of coach to reign in all those talents and egos into a cohesive and motivated unit. And Becirovic was exactly that kind of coach. Locally, he also did pretty well, leading Mahram to the third-best record in the Superleague before making it all the way to the Finals (losing to Petrochimi in five games).
Coach Memi Becirovic gets a ride after Iran wins gold.
Chot Reyes – Team Philippines
Up till this year, Reyes's journey in FIBA Asia can be characterized as a painful one. The first time he helmed the national team was in 2007 in Tokushima, Japan, where the Pinoys didn't even make the second round. His team did beat China twice in that competition, but they finished a disappointing ninth out of 16 teams. He was an assistant to coach Rajko Toroman in 2011 in Wuhan, China, where Gilas Pilipinas bungled a chance at the bronze medal against Korea. In 2012, he finally broke through with the Filipinos' first Jones Cup title in 14 years, but it was tempered by their fourth place finish in the FIBA Asia Cup in Tokyo after his wards lost to Qatar in the third-place match. This year, however, despite all the hardships and tribulations, Reyes was able to achieve Gilas's main target, which was to earn a ticket to the 2014 World Cup. Gilas finished the FIBA Asia Men's Championship with a silver medal, its best finish since winning the gold in 1973.
Yoo Jae-Hak - Team Korea and Ulsan Mobis Phoebus (KBL)
Yoo Jae-Hak had a splendid 2013, earning the KBL title with Ulsan Mobis Phoebus via a 4-0 Finals sweep of the Seoul SK Knights and also advancing to the World Cup for the first time since 1998. Coach Yoo's only "shortcoming" of 2013 was the Koreans' third place finish in the Jones Cup, which saw Iran run away with the title and Taiwan finish second (mainly because all results against the Lebanese team were nullified). Korea marched through the FIBA Asia Championships with a 7-2 slate, identical to the Philippines, to finish with the bronze medal. Currently coach Yoo is in the thick of Ulsan's title defense. His squad is sitting at third place right behind the LG Sakers and SK Knights in the 2013-2014 KBL season.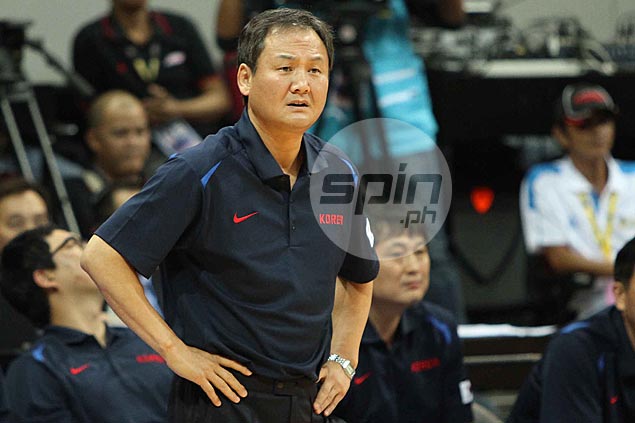 Coach Yoo Jae-Hak of Korea.
(image from Spin.ph)
Hsu Chin-Tse – Team Taiwan and Pure Youth Construction (Taiwan-SBL)
Much like coach Yoo, coach Hsu enjoyed a lot of success in 2013, even if Taiwan fell short of an automatic berth in the 2014 World Cup. First off, he led Pure Youth to its second straight SBL crown, winning in the Finals series, 4-2, against the Dacin Tigers. After that, he steered Taiwan to second place in the 2013 Jones Cup, which was significant because the last time Taiwan finished in the top three was way back in 2006. Lastly, coach Hsu pushed Taiwan to its best FIBA Asia finish since finishing fourth in 1999. On the way, his wards had huge wins over regional (and political) rivals Philippines and China. Both of those wins were hailed as defining moments in Taiwanese sports back home.
Scott Flemming – Team India
India doesn't come to mind when one thinks of the best teams in all of Asia, but the way this team improved and grew up since finishing 14th in 2011 was really quite impressive. Much of the credit goes to coach Scott Flemming, who gave up an assistant coach position in the NBA D-League to travel halfway around the world to helm India's national team. That alone deserves a deep level of praise already, but the way he has been able to improve the Blue Tigers' mindset is even more impressive. India swept the South Asia qualifiers, beating Nepal and Afghanistan by an average of around 50 points. They won just 1 game in 2011, and were able to improve their performance by winning 2 of their 8 games in Manila. They beat Thailand, 89-65, in the first round and then defeated Bahrain in the battle for 11th place. They also had a couple of games against much stronger teams where they kept things tight or even led. They trailed Kazakhstan by just 4 points in the first half of their first round game, led Japan by double-digits early in their consolation round match. India just needs to play with more consistency, and it can become a dangerous team in the future.
Maybe my bias is playing into this choice again, but the what Reyes has achieved in 2013 counters so much of the hurt that has plagued the Philippine national team for decades. All the disappointments and all the failings to meet our potential went out the window when Gilas won that semifinal game and ensured a return to the FIBA World Cup. With this triumph, Reyes will go down in history as one of the best coaches not just in Philippine hoops history, but perhaps in FIBA Asia lore as well.
Coach Chot Reyes is our Best FIBA Asia Coach of 2013.
(image by Pranz Kaeno Billones/Sports 5)
The Best Naturalized Player Nominees:
Quincy Davis – Team Taiwan and Pure Youth Construction (Taiwan-SBL)
We've already said a lot about how big of an impact Davis had on Taiwan basketball in 2013 (see the previous post), and, relative to all the naturalized players in Asia, I believe Davis has really cemented his place as one of the elite. His size and skill-set really changed so many things for Taiwan, enabling many of their players to be more comfortable in their natural positions. Davis's impact just goes beyond the numbers and wins. His winning the SBL title with Pure Youth and leading Taiwan to second place in the Jones Cup are all icing on the cake, too.
Marcus Douthit – Team Philippines
Douthit continues to be Gilas's anchor in the middle. Despite the tournament-ending injury he sustained and then aggravated, he still remained an influential figure in the team. Who knows what would have happened had he played against Iran? His stats weren't as impressive as what he logged two years ago in Wuhan, but that's mainly because he didn't have to carry as heavy a load. With pro players alongside him, Douthit had more room to defer, especially on offense. The most impressive aspect of his game in Manila, however, was the fact he continued to be the best shot-blocking big man in the continent. He led all the teams with 2 blocks per game.
Jarvis Hayes – Team Qatar
Hayes was employed by Al Ennabi just for the FIBA Asia Championships, and his presence was a big reason Qatar improved from last place in 2011 to the top 6 in 2013. On an individual level, the former NBA player produced impressive stats, scoring about 17 points and grabbing 6 rebounds per game. He also shot 40% from beyond the arc, making nearly 2 treys per outing. Perhaps his best game was a 17-point and 11-rebound effort against the Philippines, though Qatar lost that one, 80-70.
JR Sakuragi – Team Japan and Aisin Seahorses (Japan-NBL)
Sakuragi had a bit of an up-and-down year, though the highlight was definitely his leading the Seahorses to the 2013 JBL title. He didn't play for Japan in the Jones Cup, where Team Hayabusa was atrocious, finishing near the bottom with just 1 win in 7 games. In Manila, Sakuragi fared pretty well, averaging about 10 points and 9 rebounds. Those numbers aren't as rosy as the other guys on this list, but he was still a significant presence for Japan. Currently, his club team is also doing excellently in the NBL, leading the entire league with a 25-2 slate.
JR Sakuragi posts up Rikin Pethani of India.
Jerry Johnson – Team Kazakhstan and BC Astana (Kazakhstan Basketball League and VTB United League)
Triple J (his full name is Jerry Jamar Johnson) debuted in the FIBA Asia circuit with big expectations. He wasn't the prototypical FIBA Asia naturalized player, mainly because he wasn't a big man, but he was still able to fill the void in the Kazakhs' backcourt. He was one of the quickest guys in the FIBA Asia Men's Championships, often outrunning defenders on the break. He was, however, hampered by a shoulder injury and couldn't really unleash 100% of his potential. Should he return to national team duty for the 2014 Asian Games or 2014 FIBA Asia Cup, we might see much better Triple J.
QUINCY DAVIS
Hayes and Douthit had pretty good numbers, but Davis's impact on the way Taiwan played basekteball is defining aspect of his being named the Best FIBA Asia Naturalized Player of 2013. He pretty much affected Taiwan the same way Douthit affected the Philippines in 2013, and the results are eerily similar – a top four finish. At 30 years of age, Davis is still ripe for maybe one or two more strong years in FIBA Asia, so all the other teams should really watch out.
Quincy Davis is the Best FIBA Asia
Naturalized Player of 2013.
(image from Da Village)
Unless otherwise specified, all images are from FIBAAsia.net.
Tweet