The 2013-2014 PBA Philippine Cup resumed last night with a great slate of basketball. Gary David torched the hoops for 34 points, outdueling KG Cañaleta, who scored 32, while Kelly Williams shone the brightest in the Texters' OT win over the Aces.
Danny Ildefonso had a solid debut for the Meralco Bolts.
In the first PBA game of 2014, Talk N Text overcame Alaska, 121-118, in overtime. I guess Machie Gun Kelly really is back, huh? Kelly Williams registered his best game of the season so far, dropping an impressive double-double -- 18 points and 10 rebounds on 8/10 FG shooting -- as the Texters remained in a tie for third place in the team standings. Prior to this game, the former MVP averaged just 6 points and 7 rebounds per outing. This is his first double-double of the season.
It's really tough to find anything glaringly wrong with what Alaska did in this game. I mean, the Aces shot close to 50% from the field, they outrebounded TNT, and they had more steals and blocks. Their bigs played superb, their guards weren't too shabby, and Calvin Abueva filled the stat-sheet. Perhaps if I were to nitpick, though, I'd say Alaska turned the ball over a little too much (18 times, with three guys netting 3 or more TOs), and they had a little too many people in foul trouble (four guys with 4 fouls or more).
Ryan Reyes returned to action with aplomb! Prior to this match, Reyes had been nursing a re-injured hamstring, and, coincidentally, his last game was also against the Aces. He did really well here, nailing two triples and shooting 7/10 from the field overall on his way to 17 points, 3 rebounds, 2 assists, and 2 steals in 27 minutes of play. The former Gilas Pilipinas candidate hardly showed any signs of being slowed down, so it seems like TNT will be a much tougher outfit moving forward.
In the main encounter, Meralco defeated Air 21, 92-88, also in OT. In a duel pitting two of the league's streakiest shooters, Gary David and his Meralco Bolts outlasted KG Cañaleta and his Air 21 Express. David, buoyed by 7 points in overtime, led Meralco to only its fourth win in eleven games. El Granada dropped a season-high 34 points on 13/26 FG shooting, including 4 treys, as his club moved up to a triple-tie for sixth place. The Gilas Pilipinas sniper also added 6 boards, 2 steals, and 1 block to his tally.
Cañaleta came alive in the final 74 seconds of regulation, hitting a string of three-pointers that forced the extra period and reminded Meralco of its previous meltdown against the Ginebra Gin Kings. Air 21 wasn't able to capitalize, though, and they fell to their ninth defeat. Once again, playmaking was an issue for coach Franz Pumaren's crew, which recorded fewer assists and more turnovers that their foes. This time, Wynne Arboleda started for Air 21, but he ended up with just 2 points on 1/5 FG shooting and 1 assist in 33 minutes. By the game's end, it was Joseph Yeo doing much of the playmaking, but he did turn the ball over 4 times.
One things was clear Danny Ildefonso ain't done yet – not by a long-shot it seems. The former San Miguel bulwark was signed by the Meralco Bolts out of free agency and, boy, he proved to be a wondrous pick-up. The Pangasinan native, who recently turned 37, shot 6/7 from the field on his way to 14 points on top of 6 rebounds, 5 assist, and 1 steal. Despite his advanced age, he was very efficient in all of his 29 minutes of action off the bench. I mean, Ildefonso was so effective that starting center Rabeh Al-Hussaini played just 9 minutes. It sure looks like Ildefonso feels he has something to prove, and the rest of the PBA's big men better get ready.
TALK N TEXT over ALASKA, 121-117 (OT)
The Tropang Texters needed all the firepower they could muster before turning back the Alaska Aces, 121-117, in a thrilling overtime shootout in the resumption of the PLDT MyDSL Philippine Cup on Saturday at Mall of Asia Arena.
"Tough win. Good win. Much-needed win," said Talk 'N Text coach Norman Black, whose team improved its record to 7-3.
Kelly Williams led Talk 'N Text with 18 points and 10 rebounds, playing in what was easily his best game since returning this season after leaving the team midway through last year to deal with his illness.
But the Tropang Texters had a long list of heroes. The returning Ryan Reyes scored 17 points, including a three-pointer with 53.6 seconds that broke the game's final deadlock to give Talk 'N Text a 116-113 advantage.
Ranidel De Ocampo and Jayson Castro added 16 points apiece, and were instrumental in a last-ditch rally that saw Talk 'N Text come back from a 104-99 deficit with two minutes left in regulation.
Talk 'N Text won despite the dominance of Alaska's big men in the low post. Sonny Thoss sizzled for 30 points, including a layup that forced overtime in the dying seconds, along with 12 rebounds. His frontcourt partner Gabby Espinas added 18 points and eight rebounds, while RJ Jazul chipped in 18 points as well.
After the game, Black paid tribute to the hard-fighting Alaska team.
"We were able to beat them on a good night so as a coach, that's a good sign," said Black, who noted that Talk 'N Text also won its first meeting with Alaska in overtime.
Larry Fonacier had 14 points, while Sean Anthony chipped in 13 for Talk 'N Text, which is currently tied for third place in the standings along with Rain or Shine.
"My feeling right now is to win as many games as we can to have confidence going into the playoffs," said Black.
Cryus Baguio added 17 points while JVee Casio had 11 for Alaska, whose record dropped to 4-7 after the loss.
TNT 121
– Williams 18, R. Reyes 17, de Ocampo 16, Castro 16, Fonacier 14, Anthony 13, Seigle 9, Carey 8, Alapag 5, J. Reyes 3, Baclao 2.
ALA 117
– Thoss 30, Jazul 18, Espinas 18, Baguio 17, Casio 11, Abueva 9, Ramos 7, Exciminiano 3, Dela Cruz 2, Eman 2, Hontiveros 0.
QS: 26-26, 48-40, 83-80, 108-108, 121-118.
Kelly Williams had a breakout game versus Alaska.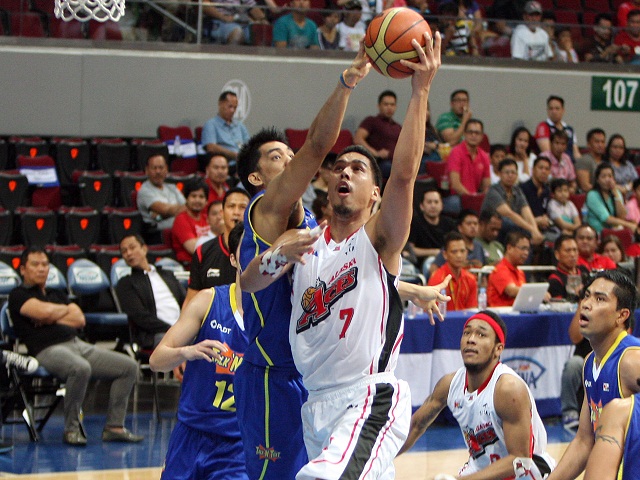 Sonny Thoss's huge outing was all for naught as Alaska lost in OT.
MERALCO over AIR 21, 92-88 (OT)
Gary David scored 34 points, including seven of Meralco's 13 points in overtime, to lift the Bolts to a 92-88 victory over the Air 21 Express on Saturday at Mall of Asia Arena.
The Bolts had to weather a strong surge from Air 21 forward KG Canaleta at the end of regulation before coming away with the victory in the extra period.
"What an incredible test again," said Meralco coach Ryan Gregorio. "But this time we made sure we will come out on top."
The Bolts were coming off a heartbreaking 83-82 defeat to Barangay Ginebra San Miguel, which saw the Gin Kings nail two three-pointers in the final 15 seconds to steal the victory.
It seemed like deja vu for Meralco after Canaleta hit three three-pointers in the last 1:14 of the game for a 9-2 run that forced overtime.
"It was a scary game," said Gregorio. "Images of the Ginebra game were still vivid in our mind."
But the Bolts got their bearings back in the extra period to snap a four-game losing streak and improve their win-loss record to 4-7.
Meralco also got a lift from Danny Ildefonso, who was making his debut in a Bolts uniform after signing with the team as a free agent. The two-time Most Valuable Player scored 14 points, six rebounds, and five assists in 29 minutes, even serving as the focal point of the Meralco offense late in the game.
"In the end we just wanted to give the ball to the player who makes right decisions," said Gregorio, who also drew nine points and 16 rebounds from Reynel Hugnatan.
Canaleta finished with 32 points while Asi Taulava added 15 points and 26 rebounds for Air 21, whose record dropped to 2-9.
MER 98
– David 34, Ildefonso 14, Wilson 13, Hugnatan 9, Dillinger 8, Salvacion 5, Guevarra 5, Hodge 4, Timberlake 0, Al-Hussaini 0, Artadi 0.
A21 88
– Canaleta 32, Taulava 15, Yeo 10, Manuel 8, Vardona 7, Sharma 6, Camson 4, Matias 2, Arboleda 2, Ritualo 2, Jaime 0, Menor 0, Custodio 0.
QS: 21-15; 38-31; 56-56; 79-79; 92-88
Gary David had hot hands in Meralco's fourth victory.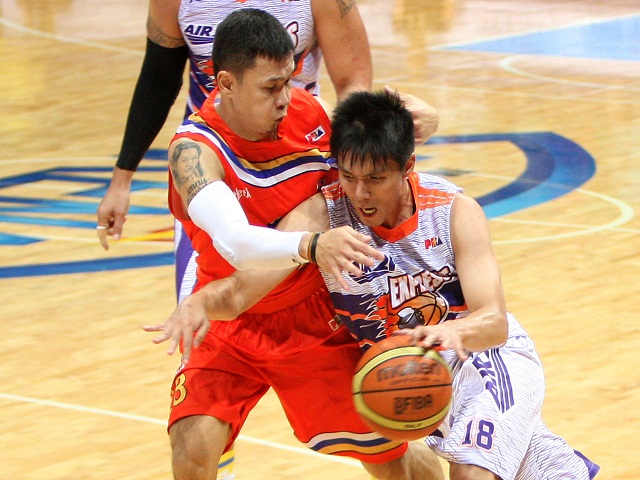 Joseph Yeo had to pinch-hit at PG several times for the Express.
Source: Unless otherwise specified, game recaps were compressed and compiled from InterAKTV. (Writing credit to Rey Joble)
Images: Unless otherwise specified, images are from the PBA and GMANews. (Photo credit to KC Cruz)
Tweet