Lebanon, reeling after getting sad news from home, lost a close one to Jordan. Other Day 7 results had Iran blasting Team USA, Korea asserting its dominance over Japan, and Taiwan floundering against Egypt
Loren Woods finally suited up for Lebanon in the Jones Cup.
In the first game of the day, the Lebanese lost to Jordan, 67-69, after getting some unfortunate news about the brouhaha concerning their basketball federation in Beirut. Apparently, FIBA's deadline for the controversial LIB basketball issues to be resolved already passed. The players were told to get ready for the worst possible scenario – suspension. Of course, Lebanon didn't exactly play with a lot of gusto throughout the match, despite naturalized player Loren Woods finally arriving to suit up for the Cedars. Woods accounted well for himself, scoring 10 points, grabbing 12 rebounds, and blocking 2 shots. Fadi El Khatib, who was set to play in maybe his last FIBA Asia tournament in Manila this coming August, wound up with 23 points to lead all scorers, while Amir Saoud hit 4 triples to finish with 15 markers. On the other end, Jimmy Baxter dropped 13 to lead Jordan, while big man AJ Zaghab tallied 11 points, 5 boards, and 1 rejection. Both LIB and JOR are now at 2-4.
Jimmy Baxter led Jordan to an upset of Lebanon.
The second game of the day featured Iran just outclassing the Americans, 86-62, even without star swingman Samad Nikkhah Bahrami. Bahrami continued to nurse his sprained ankle, choosing to miss the remainder of the Jones Cup so he can heal up for the FIBA Asia tourney. He was hardly needed, however, as Hamed Haddadi had another strong showing – 25 points, 8 rebounds, and 4 blocks in only 25 minutes of play. He was ably supported by shooter Hamed Afagh, who finally broke out of his slump by hitting 5 triples on his way to 17 points. Team USA was led by 19 points and 7 rebounds from Curtis Marshall, while Eric Hicks had a dozen markers. Iran remains unscathed after 6 games, while the Americans fall to 3-3.
Michael Kerse and the Americans fell to Iran.
Mohammad Jamshidi is coming along as the heir apparent
to Samad Nikkhah Bahrami.
In the third game, Korea outscored Japan in the middle two periods, 44-27, and just coasted the rest of the way for a decisive 75-66 triumph. Once again, the immortal Kim Joo-Sung had his way around the basket, scoring 16 points on 5-of-7 FG shooting. He was backstopped by his frontcourt mates Lee Seung-Jun and Kim Jong-Kyu, both of whom combined for 22 points and 13 rebounds. Cho Sung-Min also did well, contributing 11 markers. Makoto Hiejima's 20 points paced Team Hayabusa, which was -7 in rebounds, -7 in assists, and -5 in steals. Kosuke Takeuchi continued to struggle, shooting 4-of-11 from the floor for 13 points and only 3 rebounds. Japan is the only winless team at 0-6 and Korea remains in second with 6-1.
Yuta Watanabe challenges Korea's Kim Joo-Sung.
Lee Seung-Jun goes up strong against Kosuke Takeuchi.
The day ended with Taiwan surprisingly losing to Egypt, 72-62, mainly because top player Lin Chih-Chieh was rested. Tsai Wen-Cheng led Taiwan's losing charge with 15 points, while Tien Lei hit three triples to score 11 markers. Naturalized center Quincy Davis also did well with 10 points and 8 boards, while Egypt was spearheaded by 20 points, 4 assists, and 3 steals from Ibrahim El Gammal, while big man Assem Marei nailed 18 markers and 13 boards. Despite Taiwan's fast start in the tournament, they've slowed down significantly now that they've been forced to periodically rest some of their stars in preparation for the FIBA Asia joust. Egypt (4-3) is now just half a game behind their victims, who are at 4-2.
Tien Lei's scoring was not enough to power Taiwan past Egypt.
In other news, Lebanon has been officially suspended by FIBA. Here's the text from The DailyStar:
FIBA confirmed the international suspension of the Lebanese basketball federation Friday, with the national team to be stripped of their chance to compete in the upcoming FIBA ASIA Championship in the Philippines next month. The Lebanese federation failed to meet the latest FIBA requirements, as the deadline for agreement passed without a solution.
FIBA had given Lebanon until 1 p.m. Friday to solve the crisis by withdrawing the legal cases filed by Amchit and Mouttahed against the governing body, as well as all the parties signing the MOU proposed by the Asian federation and the Sports Ministry, but talks to resolve the issue reached an impasse.
Talks to find a solution were centered around withdrawing the legal cases, and in return two members would resign from the governing body to join the other six members who resigned last week. Consequently the federation would be dropped and new elections would take place.
However, things didn't reach a happy ending with both parties exchanging conditions, even after FIBA extended the deadline until 6 p.m. Friday.
"I am deeply sorry to announce the end of Lebanese basketball which has been slayed by politics and sectarianism, as well as the parochial interests," Sports and Youth Minister Faissal Karami said. "We have worked hard to meet the FIBA requests, but unfortunately we haven't found a required response from all the parties, whether from the politicians or the governing body or the clubs concerned.
"We have realized everyone is placing their personal benefits over those of the common good, and we couldn't do more to save the game. There is a dirty political atmosphere in the country and it has ruined everything, including the unity of the Lebanese society," added Karami, who led an attempt to find a middle ground for the parties concerned.
The Lebanese basketball federation informed FIBA late Friday about the results of the meetings, with highest international authority then confirming the ban. Lebanon will now be replaced by Iraq during the upcoming FIBA ASIA Championship.
Elsewhere, the Lebanese national team were adversely affected by the current atmosphere enveloping the game, as they were dealt a narrow loss against Jordan 69-67 during the friendly Jones Cup tournament.
The players and the staff issued a brief statement from Taiwan stressing their anger over the situation.
"We will not play any more games until they go home and leave us to play for our national team. We will stand against those who are hurting our lives, because we all make a living from the game," the statement said.
"We call on President Michel Sleiman and head of the Olympic committee Jean Hammam to act quickly to save the national team and keep our dream alive to qualify for the World Championship."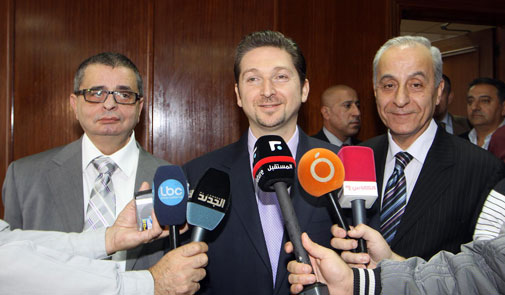 Faisal Karami announces the bad news to the Lebanese public.
(image from Sports-Leb.com)
2013 William Jones Cup Standings
JORDAN over LEBANON 69-67
JOR 69 -
Baxter 13, Zaghab AJ 11, Al Hamarsheh 9, Hadrab 8, Abu Ruqayah 7, AL Najjar 7, Al Sous 7, Abu Quora 4, Shaher 3, AL Dwairi 0, Abdeen 0, Al Faraj 0
LIB 67 -
El Khatib F 23, Saoud 15, Woods 10, Akl 6, Kanaan 5, Abdel Nour 4, Ammoury 3, Haidar 1, Ibrahim 0, Souaid 0, Mahmoud 0, El Khatib H 0
QS: 17-6, 32-23, 48-52, 69-67
IRI 86 -
Haddadi 25, Afagh 17, Davoudi 9, Kardoust 8, Sahakian 8, Jamshidi 6, Arghavan 6, Kamrani 3, Sohrabnejad 3, Veisi 1, Davarpanah 0, Davari 0
USA 62 -
Marshall 19, Hicks 12, Kearse 7, Awere 7, Owens 4, Vanlandingham 4, Barnes 3, Bray 3, Melvin 2, Horton 1, Dailey 0, Rougeau 0
QS: 26-11, 41-26, 66-48, 86-62
KOR 75 -
Kim JS 16, Lee 12, Cho 11, Kim JK 10, Kim SH 7, Moon 6, Kim NG 6, Yang 5, Kim TS 0, Yoon 0, Park 0
JPN 66 -
Hiejima 20, Takeuchi 13, Ota 6, Matsui 5, Watanabe 4, Tanaka 4, Hinkley 4, Kikuchi 4, Noguchi 3, Sakurai 2, Kurihara 1, Kanamaru 0
QS: 18-16, 40-26, 62-43, 75-66
EGYPT over TAIWAN A, 72-62
EGY 72 -
El Gammal 20, Marei 18, Abdalla R 8, Abou Shousha 7, Tawfik 7, Khorshid 5, Khalifa 5, Abdalla S 2, Abou Khadra 0, El Sabagh M 0
TPE A 62 -
Tsai 15, Tien 11, Davis 10, Hung 8, Yang 7, Tseng 4, Creighton 4, Chen 3, Lu 0, Chou 0, Lee HL 0
QS: 12-7, 28-17, 49-38, 72-62