In Part 1 of this series, we looked at the contenders from West and Central Asia – Iran, Lebanon, Jordan, Qatar, and Kazakhstan. This time around, we will look at the ones from East Asia – China, South Korea, Japan, and Taiwan. This group is quite interesting because they all just battled each other in the 2013 East Asia Basketball Association Championships in Incheon, South Korea about a month ago. The hometown Koreans came out on top there, beating a young Chinese crew in the Finals. Japan placed third after beating Hong Kong while the Taiwanese ended up a disappointing fifth. It is worth noting, however, that the teams we will see in Manila will be drastically different from the ones that played in that tourney. Needless to say, each of these four teams will be armed to the teeth when the FIBA Asia wars begin in August.
Wang Zhelin and Lee Jong-Hyun are set to renew their
rivalry in Manila.
(image from Jumpball.kr)
CHINA
– Here's the thing if you're coach Panagiotis Giannakis – you have maybe the deepest roster, at least in terms of sheer talent, in Asia, which should make it easy to form a competitive team, BUT to form a championship-contender that can routinely beat the likes of Iran, Lebanon, or Korea? Well, that's a different matter altogether. I mean, it's not a question really of whom he should pick, but more of who will he leave out? Put any 12 of the guys in the national pool together, and the resulting team will be mighty competitive, but which combination will make them stay on top of Asian hoops? And as if that weren't troublesome enough, he still has to think of the future. With guys like Liu Wei, Wang Shipeng, Wang Zhizhi, and Zhu Fangyu definitely headed for the sunset of their careers, Giannakis has to leave at least a few spots for the up-and-coming players like Wang Zhelin and Guo Ailun. My projected final roster for China is:
C – Wang Zhizhi

– 7'1 – 36 y.o
F/C – Yi Jianlian

– 7'0 – 26 y.o.
F – Zhu Fangyu

– 6'8 – 30 y.o.
G/F – Sun Yue

– 6'9 – 28 y.o.
G – Chen Jianghua

– 6'2 – 24 y.o.
C – Wang Zhelin

– 7'1 – 19 y.o.
F – Zhou Peng

– 6'11 – 24 y.o.
F – Yi Li

– 6'8 – 28 y.o.
G – Wang Shipeng

– 6'6 – 30 y.o.
G – Guo Ailun

– 6'4 – 20 y.o.
C – Zhang Zhaoxu

– 7'3 – 26 y.o.
G/F – Zhang Bo

– 6'7 – 24 y.o.
Coach: Panagiotis Giannakis
The immortal Wang Zhizhi will probably
represent China again.
(image from Sports.163.com)
Yes, you read that right. My projected CHN roster has nobody smaller than 6'2, with all but two guys standing 6'6 or taller. The Chinese have always paraded size over athleticism, but this team will have a healthy balance of both, thanks to young 'uns like Chen, Guo, and Wang Zhelin. I didn't include Liu Wei mainly because based on the team's recent tune-up games, he has taken more on a mentor's role, guiding Chen and Guo from the sidelines. I envision him doing the same thing in Manila. Wang Zhizhi is still going to make it because, well, Zhelin and Zhang Zhaoxu are still unproven at this level, even if Zhaoxu already played in 2011. Zhizhi is both a mentor and an insurance policy, in case the two younger slotmen fail to live up to expectations. I expect Giannakis won't be playing Zhizhi any more than 25 minutes per game, though. Wang Shipeng is a bit of a wildcard because of his age and his health, but his showing in last year's Olympic games is just too good to ignore. Anyway, Chen Jianghua and Zhang Bo can alternate as back-ups to Sun Yue if Shipeng continues to hobble. Also, other guys who can move up (based on their tune-up performances) might be Liu Xiaoyu of the Guangdong Southern Tigers, Li Xiaoxu of the Liaoning Hunters, or even Mugedar Xirelijiang of the Xinjiang Flying Tigers. What can shake this roster up, however, is the upcoming Stankovic Cup, which features strong national teams from Argentina, Germany, Nigeria, Australia, and Puerto Rico squaring off against each other and the Chinese. Will Giannakis stick with his vets or go with his upstarts? Only after then will we have a clearer picture of how the final make-up of Team Big Red will be.
SOUTH KOREA
– I love how coach Yoo Jae-Hak, who helmed 2013 KBL champs Ulsan Mobis Phoebus, has trimmed the national pool to a mere thirteen players. This simply means he only really has one final, critical choice – which Korean-American will he choose to bring to Manila? Will it be veteran FIBA Asia campaigner Lee Seung-Jun (a.k.a. Eric Sandrin) or FIBA Asia neophyte Moon Tae-Young (a.k.a. Greg Stevenson)? Lee is the more seasoned player and is more of an interior guy who loves to rebound and is a strong finisher around the basket (think Marc Pingris only 4-5 inches taller), while Moon is more of a hybrid – a perfect stretch forward – who can mix it up inside while also taking a lot of outside shots. Unlike many of their Asian neighbors, the Koreans haven't really gone abroad for training (or at least it hasn't been publicized). The 2013 Jones Cup, in fact, will be their first official set of tune-up games against other national teams. A couple of boosts to the team are the inclusions of collegiate wunderkind Lee Jong-Hyun, who is still recovering from a recent nasal fracture, and veteran big man Kim Joo-Sung, who, like China's Wang Zhizhi and Liu Wei, supposedly already announced his retirement from international competition. My projected final roster is:
C – Kim Jong-Kyu

- 6'10 – 22 y.o.
F – Moon Tae-Young

- 6'8 – 35 y.o.
F/G – Cho Sung-Min

- 6'7 – 30 y.o.
G – Kim Sun-Hyung

- 6'2 – 25 y.o.
G – Yang Dong-Geun

- 5'11 – 32 y.o.
C/F – Kim Joo-Sung

- 6'9 – 34 y.o.
F/C – Lee Jong-Hyun

- 6'9 – 19 y.o.
F – Yoon Ho-Young

- 6'6 – 29 y.o.
G – Park Chan-Hee

- 6'3 – 26 y.o.
G – Kim Tae-Sool

- 5'11 – 29 y.o.
F – Choi Bo-Kyung

- 6'7 – 24 y.o.
G – Kim Min-Goo

- 6'2 – 22 y.o.
Yang Dong-Geun will helm the Koreans once anew.
(image from the KBL)
I projected that coach Yoo would choose Moon over Lee (Sandrin) mainly because Moon played for Yoo at Ulsan Mobis Phoebus. Yoo knows how to maximize the presence of the 35-year old Korean-American, and he should combine with another Ulsan player – Yang Dong-Geun – to form a potent 1-2 punch for Korea's starting unit. One thing that will make this team very different from the one that finished third in 2011 is size, or lack of it. Without the hulking Ha Seung-Jin in the middle and star forward Oh Se-Keun (both reportedly injured), the Koreans will give up a lot of inches, especially considering they'll go up against China AND Iran in the first round. They will counter this, however, by focusing on the things they do best – shooting from the outside and running at every opportunity.
JAPAN
– The Japanese are probably feeling really good about themselves right now. After all, they placed second behind Iran in the 2012 FIBA Asia Cup and landed a respectable third in the 2013 East Asia tourney despite missing most of their veterans. Before going to Manila for the big dance, Team Hayabusa will have a three-game exhibition series (against the Gilas cadets reinforced by players from the PBA's Meralco Bolts) and then proceed to Taipei for the 2013 Jones Cup. After the disaster of 2011 that saw them place outside of the top 6, the Japanese are looking not only to rebound this year, but also to reload talent for the years to come. My projected final roster is:
C – JR Sakuragi

- 6'9 – 37 y.o.
F/C – Kosuke Takeuchi

- 6'9 – 28 y.o.
F – Daiki Tanaka

- 6'3 – 22 y.o.
G/F – Kosuke Kanamaru

- 6'4 – 24 y.o.
G – Ryota Sakurai

- 6'5 – 30 y.o.
C/F – Atsuya Ota

- 6'9 – 29 y.o.
C/F – Joji Takeuchi

- 6'9 – 28 y.o.
F – Takahiro Kurihara

- 6'4 – 26 y.o.
G – Makoto Hiejima

- 6'3 – 23 y.o.
G – Naoto Tsuji

- 6'1 – 24 y.o.
G – Keijuro Matsui

- 6'2 – 28 y.o.
F – Yuta Watanabe

- 6'7 – 19 y.o.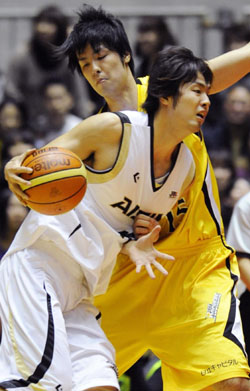 The Takeuchi twins will be the anchors
for Team Hayabusa.
(image from the Japan Times)
Of those 12 names, only 5 were in Wuhan for the 2011 FIBA Asia tourney. Wing scorer Takuya Kawamura is trying out for the NBA D-League, top playmaker Takumi Ishizaki is plying his trade in Europe, and veterans Tomoo Amino, Takeki Shonaka, Kenta Hirose, Shinsuke Kashiwagi, and Ken Takeda have all been scratched for fresh new talent. This means that Suzuki will rely heavily on the holdovers – the Takeuchi twins, Ota, Matsui, and especially Sakurai, not to mention old reliable Sakuragi (a.k.a. JR Henderson). One intriguing figure is 19-year old sensation Yuta Watanabe, who is being prepped to take on bigger roles for the NT in the near future. If the Chinese have Guo Ailun and Wang Zhelin, and the Koreans have Lee Jong-Hyun, then the Japs have Watanabe. Now, if we want to look even further than 2013, we can also include another potential headache – Kansas Jayhawk Landen Lucas, who stands 6'10 and holds Japanese-American dual citizenship. Under the current FIBA rules, he may play for Japan as a local and reports suggest former NT coach Kenichi Sako is looking to get him as early as 2014.
TAIWAN
– The mantra for the Taiwanese should be "now or never." Because its core is closing in on 30 coupled with the fact they now have a bona fide naturalized player in Quincy Davis to bolster their lineup, I imagine coach Hsu Chin-Tse will really go all out as Taipei tries to return to the top shelf of Asian hoops. They have been going through their NT practices with a good mix of veterans and youth players, but, as far as what has been publicized, they haven't really played any marquee international sides yet. All that changes, of course, when the Jones Cup begins in the next few days. With some of Asia's top squads (KOR, JOR, LIB, JPN, IRI) joined by Egypt and a Team USA Selection, the Taiwanese will get all the training and honing they need in time for Manila. My projected final roster is:
C – Quincy Davis

- 6'9 – 30 y.o.
F/C – Tseng Wen-Ting

- 6'8 – 29 y.o.
F – Chang Tsung-Hsien

- 6'4 – 26 y.o.
G/F – Lin Chih-Chieh

- 6'4 – 31 y.o.
G – Lee Hsueh-Lin

- 510 – 29 y.o.
C/F – Wu Tai-Hao

- 6'8 – 28 y.o.
F – Tien Lei

- 6'8 – 30 y.o.
F – Douglas Creighton

- 6'5 – 28 y.o.
G – Tsai Wen-Cheng

- 6'3 – 28 y.o.
G – Chen Shih-Chieh

- 5'10 – 29 y.o.
G – Yang Ching-Min

- 6'3 – 29 y.o.
F – Lu Cheng-Ju

- 6'5 – 27 y.o.
Lin Chih-Chieh and the Taiwanese are looking to bounce back
after faltering in 2011.
(image from sports.163.com)
I expect coach Hsu to keep about half of the Taiwanese roster from 2011, jettisoning guys like Su I-Chieh and Chien Chia-Hung for Davis and returnee Yang Ching-Min, who most recently played for the CBA's Shanxi Brave Dragons. Other "new guys" who should get the nod are Creighton, Tsai, and Chen, all of whom played for Hsu at Pure Youth, which won the Taiwan SBL title recently. Creighton and Chen also played in the 2012 FIBA Asia Cup while Tsai was Hsu's top local scorer in the pro circuit. There are, however, several young guys who might make the cut and supplant a couple of the vets should coach Hsu opt for fresher legs and a chance for the upstarts to get exposed to such a high level of competition. I'm talking about several former youth players standing 6'6 or taller – Lee Te-Wei, Zhang Su-Bo, Zhou Bo-Xun, Fan Shin-En, or Hu Lung-Mao.